September 4, 2017 – Supporting DACA Students and Our Nation
Over the Labor Day weekend, I received numerous communications from higher education leaders across the nation, calling on us to urge our elected representatives and policymakers to continue the Deferred Action for Childhood Arrivals (DACA) and to pursue legislation to create more lasting solutions. Augsburg stands firmly in support of these efforts.
Throughout its nearly 150-year history, Augsburg has always engaged and taught the "students right in front of us." In the early years, these students were from Norwegian immigrant populations. Over the decades, Augsburg has grown to serve a shifting profile of students of diverse backgrounds and experiences.
In the past 15 years we have had the privilege to meet the so-called "Dreamers," remarkable young people who grew up in this country because their parents moved here to seek a better life. Our undocumented and DACA students have astounded us with their intellect, their work ethic and perseverance, and their service to our communities.
Since 2012, our DACA students have been able to enhance their education through work and study abroad opportunities — vital educational experiences not available to them before DACA was created. A decision now to curtail DACA would rob these innocent young people of their opportunity for education — a promise we have made to them — and it would rob our country of a generation of immigrant children who, like previous generations of immigrants before them, promise to make our country ever stronger and more vibrant.
We stand with our students, and we offer our resources to advocate for their education and their lives in this country. Our nation will only be strengthened by their talents and by our ability to create a positive, long-term policy solution to support them.
Paul C. Pribbenow
---
August 17, 2017 – The Fierce Urgency of Now: A Call to the Community.
Note: Augsburg President Paul C. Pribbenow issued a statement to the Augsburg community on August 17, 2017, in response to recent events in the United State and the world. His statement is below.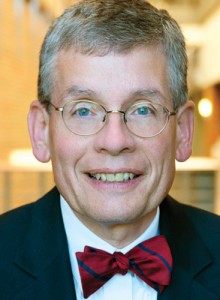 Dear Members of the Augsburg Community,
Events in our country and around the world during the past several months have reminded us that the spectre of fear and prejudice and bigotry are very much present in our common lives. Whether it is violence in the name of white supremacy, rhetoric demonizing immigrants and refugees, policies discriminating against those of various sexual and gender identities, or the general rancor and polarization in our political discourse – all of this illustrates the need for citizens to come together with courage and resolve to fight back, to stand with love against hate and prejudice, to seek opportunities for genuine conversation and common purpose.
The Augsburg community is by no means immune from the dynamics of this volatile social situation. At the same time, however, dedicated and principled work over the past decade by faculty, staff and students has positioned Augsburg to be a model for how a community can navigate the throes of shifting demographics, progressive social mores and the polarizing fear and anxiety that characterize our public lives.  In fact, it is precisely because of Augsburg's faith, academic and civic traditions that we are poised to show a way forward in the 21st century.
And now is the time for us to lead. As inspiration for the work we must pursue as a community, I have returned to the wise words of Martin Luther King, Jr., who, in his 1963 speech accepting the Nobel Peace Prize, said "(W)e are confronted with the fierce urgency of now." Now is the time for urgent reflection and action.
King's words were prescient:
"…our very survival depends on our ability to stay awake, to adjust to new ideas, to remain vigilant and to face the challenge of change. The large house in which we live demands that we transform the world-wide neighborhood into a world-wide brotherhood (sic). Together we must learn to live as (siblings) or together we will be forced to perish as fools."
In particular, I am struck by Dr. King's insistence that "…we are challenged to work all over the world with unshakeable determination to wipe out the last vestiges of racism." Here, fifty years later, we must return to this very challenge, to what King called the need to celebrate our "world house," comprising black and white, Easterner and Westerner, Gentile and Jew, Catholic and Protestant, Muslim and Hindu – to which we might add, liberal and conservative, urban and rural, straight and gay and more.
The Augsburg community is a microcosm of "the world house." It is our rare and compelling call to live as a people united by ecumenical loyalties, called to illustrate for all to see how love for one another, what Dr. King called "the supreme unifying principle" claimed by all great world religions, might be the path forward in a world torn to its very core by the forces of hatred, prejudice and violence. The time is now.
Faithfully yours,
Paul C. Pribbenow
---
March 1, 2017 – Statement to Augsburg Community Regarding Commitment to Inclusion and Equity.
Dear Augsburg Community,
In President Paul Pribbenow's January statement in response to the Presidential Executive Orders on immigration, he wrote to affirm Augsburg's "commitment to provide a safe learning and working environment with equitable access to education for all members of our campus community." Today, we ask the Augsburg community to remember this and take heart in the knowledge that we have not and will not abandon this commitment.
Recently there have been several disturbing events that have taken place across our nation and locally in our own backyard, and as a College, we wish to address them.
First, last week, the U.S. Departments of Education and Justice withdrew their support of transgender protections under Title IX, which covers sex non-discrimination in higher education. This decision does not impact or affect Augsburg's steadfast commitment to providing transgender and gender non-conforming students, staff, faculty, and community members a welcoming, inclusive, equitable, and safe environment to live, learn, and work. A list of our commitments and progress can be found on the letter published last week by Michael Grewe, Director of LGBTQIA Student Services.
Second, there has been an increase in widespread religious violence, including anti-Semitic violence terrorizing Jewish community centers through bomb threats, the destruction of tombstones in Jewish cemeteries, the displaying of offensive imagery, and other hate-motivated actions; and the heightened Islamophobia the Muslim community is experiencing through attacks on mosques, physical assaults, and incidents of harassment and intimidation. Augsburg College values all members of our community and will not tolerate harassment or discrimination of any kind. We will continue to work and strive for an inclusive and equitable institution.
Sincerely,
Joanne K. Reeck, Chief Diversity Officer
On behalf of the Diversity, Inclusion and Equity Committee
Sonja Hagander, College Pastor
On behalf of Campus Ministries
Michael Grewe, Director
On behalf of LGBTQIA Student Services
---
February 23, 2017 – Response to U.S. Departments of Education and Justice Withdrawing Support for Transgender Students Under Title IX.
On February 23, 2017, Augsburg College's Mike Grewe sent a letter reiterating the support by Augsburg College of equity and inclusion for transgender students. The text of the letter by Grewe, who is Director of Lesbian, Gay, Bisexual, Transgender, Queer, Intersex and Asexual (LGBTQIA) Student Services and Assistant Director, Campus Activities and Orientation, is below. Augsburg College is deeply committed to social justice and human rights and remains committed to inclusion and equity for transgender students.
Text of Letter to Augsburg Community
Dear Augsburg Community,
As many of you are aware, yesterday the U.S. Departments of Education and Justice withdrew support for their "Dear Colleague Letter on Transgender Students" from May 2016.  This letter stated that discrimination against transgender individuals was covered under Title IX protections regarding sex non-discrimination in higher education.  The letter also gave guidance around how to provide support for transgender students, both within K-12 settings and within higher education.
I'm emailing to let you know that the federal government's decision to withdraw it's support for federal transgender non-discrimination protection does not impact Augsburg's commitment to providing a welcoming, inclusive, and equitable environment for transgender and gender non-conforming students here.  Augsburg's non-discrimination statement includes gender identity and gender expression, and as a "Reconciling in Christ" institution within the Evangelical Lutheran Church in America, Augsburg affirms and welcomes LGBTQIA-identified individuals.
Some of the many commitments Augsburg has made to furthering equity and inclusion for transgender students include providing:
Safe and nondiscriminatory living, learning and working environments, and giving students opportunities to report any issues through its Bias & Discrimination Incident Reporting Process;
The ability to indicate one's preferred name on certain campus records;
Increased number of gender-neutral restrooms, showers, and changing facilities on campus, including in the Hagfors Center;
Gender-neutral housing accommodations on campus;
Access to participate in intramural activities and varsity athletics; and
Trans-specific and trans-inclusive training to faculty, staff, and students.
Providing equity and access requires all of us to do our part to make a welcoming, affirming, and safe campus for every individual. If you have an idea that would contribute towards this goal, Augsburg encourages you to apply for funds from the President's Fund to Advance Peacemaking and to make the change you want to see happen on campus.
LGBTQIA Student Services exists as a resource on campus for students who are looking for support, advocacy, resources, or finding community.  If you are seeking support or resources, or if you just have questions or need help navigating something on campus, please do not hesitate to contact me at grewe@augsburg.edu or 612-330-1499.
Mike Grewe
Director of Lesbian, Gay, Bisexual, Transgender, Queer, Intersex and Asexual (LGBTQIA) Student Services
Assistant Director, Campus Activities and Orientation
---
January 30, 2017 – Response to the Presidential Executive Orders Regarding Immigration and Undocumented/DACA Students.
(MINNEAPOLIS) — On Monday, January 30, Augsburg College President Paul C. Pribbenow and Provost Karen Kaivola issued a statement to College students, faculty, and staff about recent executive orders issued by President Donald J. Trump related to immigration and to undocumented/DACA students. Below is the statement the President and Provost issued.
Dear Augsburg Community,
We are deeply troubled by the recent Presidential executive orders on immigration: they run counter to the values of this institution and of our nation. We do not accept the intolerance which the new immigration policies promote. Augsburg's history is rich with the contribution of individuals who came to America; indeed, founded by Norwegian immigrants, Augsburg has an immigrant sensibility and will stand firm in the face of threats to our community and our immigrant neighbors.
We write today to affirm our commitment to provide a safe learning and working environment with equitable access to education for all members of our campus community. We will not back down on that commitment. We will use all the resources at our disposal to ensure that you complete your degrees, can come to and from work safely, and can thrive as valued members of our community.  Your well-being is our priority.
Augsburg is a community that cares deeply about our students, staff and faculty.  Many members of our campus community are impacted by these actions. We are focused intently on the educational and work experience of our students, staff, and faculty, their lives in the world and their promise. We have a long-standing commitment to hospitality and justice and we will resist changes that run against our values. We will not stand by and allow our values to be trodden upon. It's a personal commitment we make and it is one shared by all of us at Augsburg. We live it out every day. We don't step backward, we step forward, and we are proud of this community because of that.
These values are central to how we will respond in support of students who are affected by changes in undocumented and immigration status. We will double down on our commitments to hospitality and justice, to supporting our students' success and to keeping them safe. We will advocate at the state and federal level for policies that support all of our students.
In light of this past weekend's executive actions, we want to share the following information:
No Augsburg students currently studying abroad are impacted by the immigration/travel ban and all will be able to return safely to Augsburg and their homes.
We are working to bring local groups such as NAVIGATE MN and the Immigration Law Center of Minnesota to the Minneapolis campus to provide support for any members of the campus community who need assistance.
Based on the current executive orders, we strongly encourage all students, staff and faculty to seek legal advice if they have questions about their international travel plans.  For citizens of other countries, if you travel outside the U.S., you should expect increased visa delays and be aware of the risk that entry rules may change while you are traveling.
We have funding available for undocumented and DACA students who need assistance to explore pathways to citizenship. Please contact Jennifer Simon, Director of American Indian Student Services; Hli Vang, Director of Pan-Asian Student Services; or Ann Garvey, Vice President of Student Affairs, for further details.
We will ensure that all students at Augsburg are able to finish their degrees regardless of immigration status.
Augsburg currently has strict protocols around student data privacy, as mandated by FERPA (the Family Education Rights and Privacy Act). We are currently assessing offices on campus to ensure that immigration status data is not requested from students unless necessary, so as to minimize the data we store about students. Augsburg does not share student data with outside agencies unless required to do so by court order or subpoena.
We are closely monitoring the situation to ensure that we can respond quickly to any changes that impact our campus community.  We are requesting meetings with state and federal lawmakers and appointed officials and continuing to monitor court decisions. We will continue to use our leadership positions to advocate for policies that support all members of our campus community.
We expect each member of this community to be as flexible as possible with others who may need to address unexpected personal or family situations brought on by the current political environment.
If you are struggling, reach out to someone you trust.  It could be a faculty or staff member. Also Campus Ministry and the Counseling Center are confidential resources. As licensed ministers and counselors they are required to keep conversations private.
We are establishing a website with resources and information for the community. The site will be live on January 31.
We will continue to monitor the changing political landscape closely and communicate regularly with you about actions and resources. In the meantime, please remember that we are stronger together and that our support for each other is among our most compelling values.
Sincerely,
Paul C. Pribbenow, President
Karen Kaivola, Provost
---
November 10, 2016 – Statement to Augsburg Community Following the Presidential Election.
Dear Augsburg Community,
The Augsburg College Diversity, Inclusion, and Equity Committee acknowledges that there are faculty members, staff members, and students who are experiencing harassment, intimidation, and fear in the Twin Cities area and beyond following the presidential election. Please know that Augsburg will not tolerate hate speech or behaviors motivated by hate in our college community. We believe that our diverse community makes us a stronger community. We expect that everyone in our community will continue to create and maintain inclusive spaces and continue to work towards equity. We will support affected communities while continuing to strive for a better tomorrow.
We will stand together united against hate.
Sincerely,
Joanne K. Reeck, Chief Diversity Officer
On behalf of the Diversity, Inclusion and Equity Committee